https://magazine.rice.edu/spring-2023/record-enthusiasm
My story on KTRU for Rice Magazine
Five decades of KTRU DJs are linked by their love of the music and a unique archive of thousands of music reviews tucked among the stacks.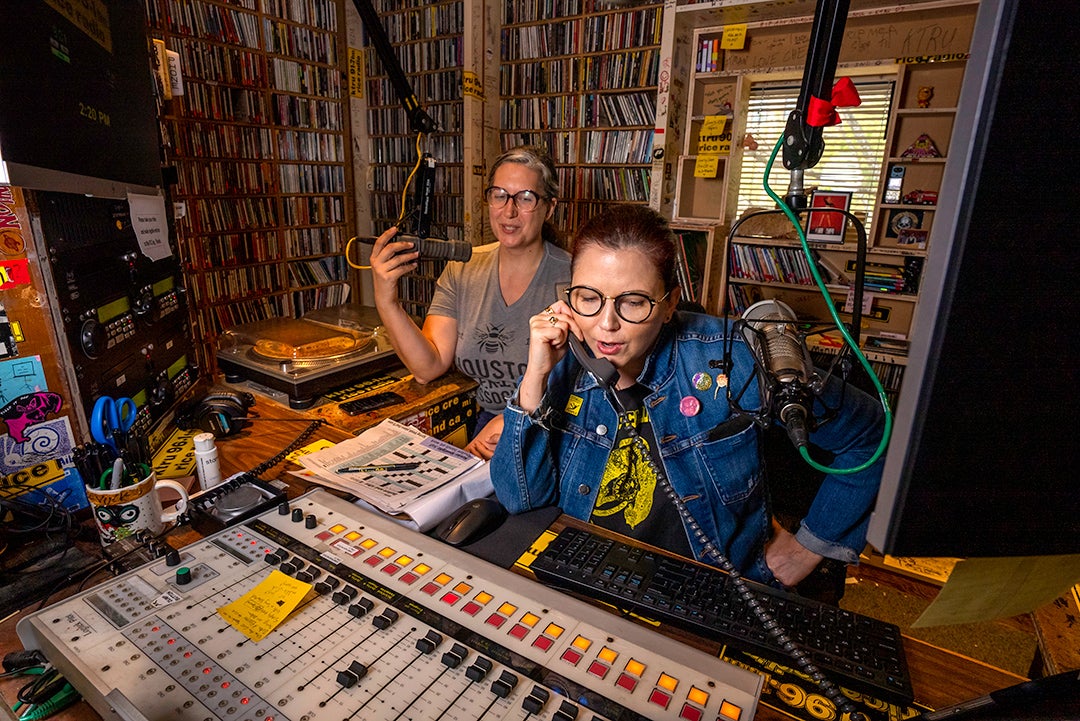 By Joe Nick Patoski | Photos and video by Gustavo Raskosky
The control room of KTRU Rice Radio has a well-lived-in look. Shelves of compact discs surround the room's desk and main microphone. All of the walls are plastered with yellow-and-black KTRU bumper stickers, along with graffiti and other ephemera, mostly identifying bands and record labels. Within reach of the on-air disc jockey are two video screens and bays to play CDs, cassettes and digital audio, with two turntables for vinyl records on either side. Additional microphones and chairs for guests are set up opposite the main mic.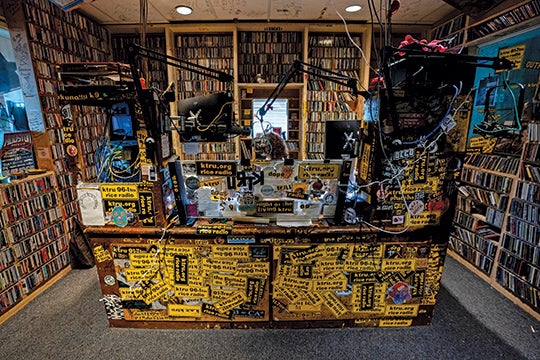 This uniquely cluttered space is ground zero for some of the wildest music heard on Houston airwaves and online. And for the DJs — mostly Rice students — it's where they're having the most fun while pursuing their studies.
The woman talking animatedly into the main microphone, with headphones covering her curly mane, is Katharine Shilcutt, the director of student media at Rice and also a DJ. She squints close at one of the turntables as she tries to cue up a track from a clear vinyl album. Once the track begins to play, she swings around her chair in search of a 1970s vintage album by The Roches.
Being a DJ is what KTRU is all about; there are 150 of them at the station. "Rice University does not have a radio-television-film department," Shilcutt says. "This place is most definitely not a springboard to a career in broadcasting. We're not training these people how to be professionals. This is just where you come when you care about music. It's the students teaching themselves and finding a spot to express themselves."
GLORIOUS CHAOS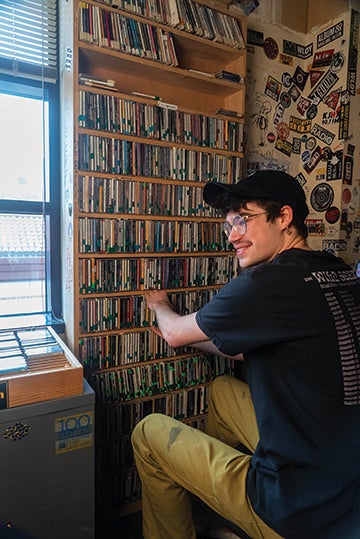 The sounds of KTRU range from the expected eclectic college-station mix of jazz, world, classical, reggae, roots and local bands to the arcane, obscure and underserved. KTRU's weekly schedule includes "C-Pop," featuring pop music from China; "Gaytru," specializing in LGBTQ+ music; "Mutant Hardcore Flower Hour," showcasing punk rock; "Roots d'Afrique" with music from Africa; "Genetic Memory," airing the music subgenre known as Noise; and "Löded Diaper," dedicated to teen angst garage rock.
Keegan Pierce '24, a physics major with a minor in philosophy, works the 1 p.m. hour at KTRU on Thursdays, playing accordion music from Texas and Louisiana, mixing conjunto with zydeco and Cajun. "I went to a lot of live music with my dad when I was in high school [in Birdville near Fort Worth] and went to Deep Ellum a lot," he says while a song plays over the air. "My freshman year, I sent him a request for zydeco music." After segueing from a vinyl recording by Santiago Jiménez Jr. to an album track by Clifton Chenier, he explains that his KTRU experience has prompted him to refine his academic focus to acoustic engineering — working with sound.
Imogen Brown '25, host of "Babewaves," which focuses on music by women, femme and noncisgender artists, also testifies about the power of KTRU. Brown, who's majoring in the study of women, gender and sexuality, joined the station because she loves to create, share and discover music. "Doing radio and being on air is a whole other entity that I've learned about along the way," she says. "It means reaching people whom I don't know and have never seen, and that's terrifying and also exciting. It also means my family at home in New York is listening to me. My parents are staying up past their bedtime to tune in."
Overnights, KTRU goes "robo," airing music preprogrammed by the station's chief engineer Ross Cooper and various students to reflect the breadth of what's heard on live shows. Over the course of one sample hour, the mix ranges from South Asian and Chinese music and experimental jazz to Appalachian music and psychedelic rock.
At 3 a.m. on most weekdays, though, KTRU goes live for an hour with Matthew Bitz '25, a chemistry major who goes from his shift at the station to open a Starbucks nearby at 4:30. "I play mostly jazz to create a calm atmosphere, not super out-there jazz. Houston has a great jazz history, and I like to explore that."
Bitz has an audience too. "My shift supervisor at Starbucks listens, and we talk about what I played when I get there. I know people listen if they're studying at Sid Rich, my residential college."
KTRU fills an important hole for Bitz. "When I was in high school, my entire life was all about music," he says. "I play violin and piano. I'd get up every morning at 6 to go to band practice and stay after school to do orchestra. When I came to Rice, I wasn't doing music anymore. It was all chemistry science-y stuff. The opportunity to get back into music in this kind of way has been really enjoyable. I'd like to stay involved with radio in a small way, like the DJs here."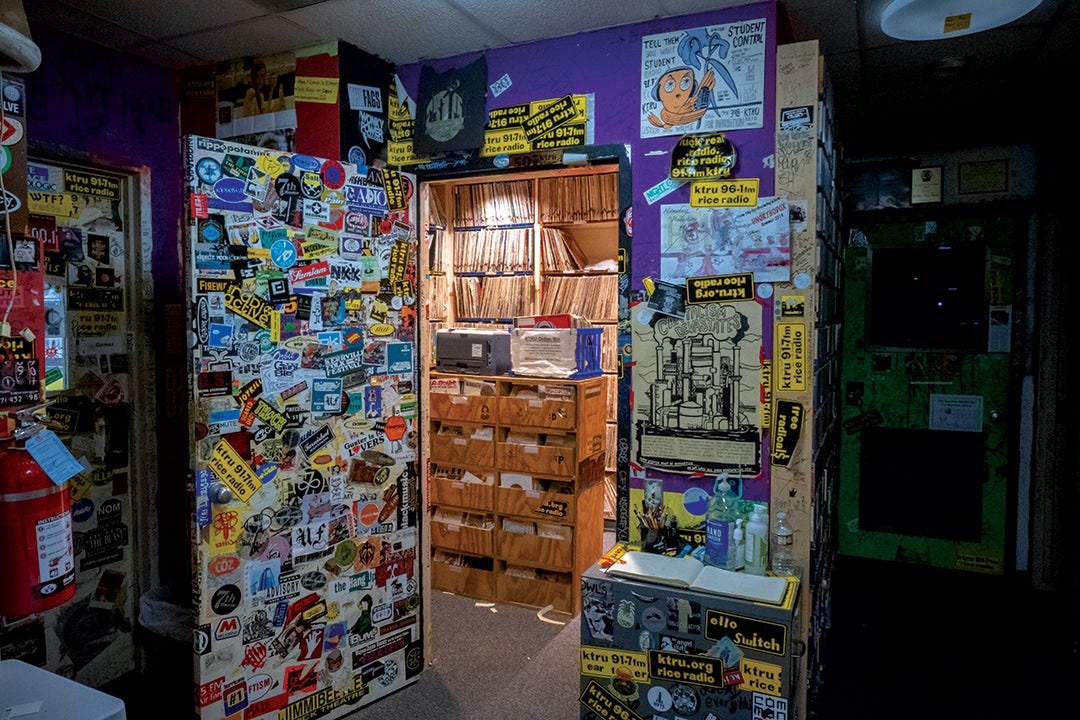 In addition to the students, regular folks in Houston host shows too. One example is a specialty show called "Afternoon Delight." Community DJs Nicole Buergers and Ashley Turner, respectively a professional beekeeper and voice-over artist, get together every Tuesday and play two solid hours of 1970s soft rock.
Because, why not?
Back in the early 1980s when I first tuned in, KTRU played music I didn't hear anywhere else. Tuning in was always a discovery. Forty years later, things sound the same as they ever did — cutting edge, proudly eclectic, wonderfully chaotic and somewhat subversive.
RESILIENT RADIO
There have been some significant skips along the way, including the Rice administration's sale of the 91.7 frequency signal in 2011 followed by a long spell as an online-only station. In 2019, KTRU reemerged on air as a low-power FM signal on 96.1 and continues to stream online at ktru.org. The pandemic also took away a critical piece of KTRU's programming: the live in-studio performance. KTRU returned to presenting live, over-the-air music in October 2022 with a concert by Katherine Wu '23, a pre-med and neuroscience major who is also training to compete in archery in the Olympics. Wu played the Chinese guzheng, aka the Chinese table harp.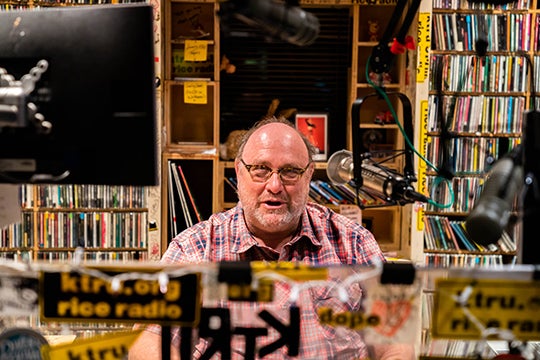 While those issues are behind them, there's another challenge ahead. In the coming year, the entire student center will be demolished to make room for construction of the new 80,000-square-foot Moody Center for Student Life and Opportunity. The current offices on the second floor of the Ley Student Center, KTRU's home for the past 36 years, will move across campus into a temporary space.
When Shilcutt was appointed student media director in March 2022, a position that includes oversight of the Rice Thresher newspaper and Campanile yearbook, she started taking inventory around KTRU in anticipation of the coming move. A half-century dedicated to all kinds of music has built up the "stacks" at the station to more than 200,000 pieces of music, according to Cooper. That translates into tens of thousands of vinyl albums and compact discs as well as cassettes and tape carts — all of which will need to be moved twice.
In the process of taking inventory of the stacks, however, Shilcutt discovered the secret sauce that separates KTRU from everywhere else: the music reviews.
OBSESSIVE NERDINESS
One of the few rules at KTRU is that each piece of music aired must be accompanied by a review written by a KTRU DJ to provide insight and guidance to other DJs.
Conner Clifton, assistant director of student media, showed me what used to be the newsroom studio to point out several stacks of a hundred CDs each waiting to be reviewed in order to be played.
Every DJ at KTRU is required to write at least one review. "I thought they were so weird, funny and different," Shilcutt says. "There were these bizarre non sequiturs that have nothing to do with the album: 'Once I saw Eraserhead twice in two nights and to this day, I don't know why I did that.' That's a review of Julee Cruise, 'Floating Into the Night.' Yes, it's a David Lynch collaboration, but —"
---
A pleasant mid-tempo number, not a strong opener, but indicates the tonal medium of this album. — Anon, on opening song, "More Than This," on "Avalon" by Roxy Music, 1982
---
So what makes a good Surfers album great? (1) Semi-s—ty production that makes everything sound as if drawn through a rusty sieve. — HK, on "piouhgd" by the Butthole Surfers, 1991
---
Reviews have been part of the KTRU experience since the station appeared on the FM airwaves in May 1971. The station's debut coincided with the golden era of music criticism. Before then, music reviews were limited to pithy comments about records ("It's got a beat, and you can dance to it") made in trade publications. Criticism in newspapers and magazines, if published at all, was restricted to classical music and jazz.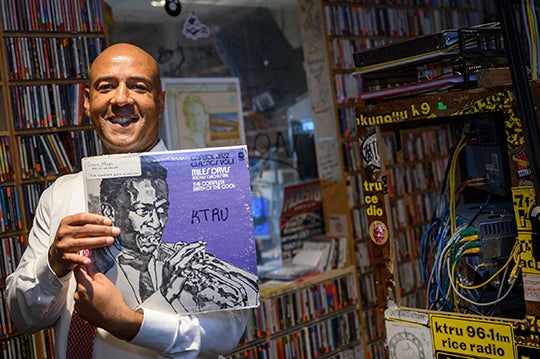 But in the late 1960s and early 1970s, college newspapers and consumer music magazines such as Rolling Stone, Creem and Crawdaddy started taking popular music seriously and birthed rock criticism. Reviews of music often became as important and entertaining as the music itself. Critics such as Ellen Willis, Greil Marcus, Peter Guralnick, Ed Ward, Lester Bangs and Nick Tosches became recognized as serious writers, not just rock critics.
KTRU reviews reflect those times and carry the tradition to the present. Taken as a whole, the reviews make up an informal anthology of modern music as told by Rice students and community members who happen to be armed with microphones and access to all the music they can imagine.
---
Dr. Frank, who wrote all but one of the songs on this album, showcases the benefit of a 1590 SAT score when used properly in the name of pop punk. — Melissa J., on "Love Is Dead" by the Mr. T Experience, 1996
---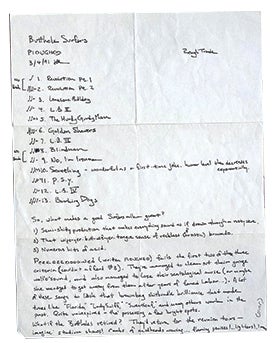 The reviews are generally curt, wordy, intelligent and passionate. Brown, the "Babewaves" host, is an avid reader of reviews. "The reviews are pretty descriptive and creative," she says. "They make comparisons I sometimes don't understand, but usually, a review gives me a good idea what vibe the song is before I listen to it and where it will fit in a set. It's insane I can pull a review off the shelf from 1985 and someone is giving their opinion from that time. It's a piece of history."
Writing reviews is hard, Brown adds. "It's not that I don't like doing it. It's hard to critically think about every song. I write music reviews for The Thresher. Those are more 'sit down and let everything out.' One sentence has to feed into the next. You have to paint the album as a whole. KTRU [reviews] are conversational."
---
Seem to be caught in the same style as "Remain in Light," but without the esoteric ("Listening Wind") type songs. Technically proficient. … [The song "Swamp"] sounds like Byrne's been taking hormones. Beat more prevalent. — MFZAKES, on Talking Heads' "Speaking in Tongues," 1983
---
"The reviews try to be as helpful as possible," Shilcutt explains. "People want to leave their mark. People want to talk about this stuff. They want to talk about what makes a great Butthole Surfers album. 'Here's a list.' Across time, DJs will argue with each other. They'll add comments."
---
All in all, Band of Susans shows the signs of a well-polished and professional band. However, they lacked a certain oomph to distinguish their music from a squeaky doorknob. — Matt Tenny '97, on "Here Comes Success" by Band of Susans, 2012

DJ DG did not agree and scribbled below the initial review:

Bulls—. This is good s—.
---
As Kurt Cobain said, "[Jandek's] not pretentious … but only pretentious people like his music." — Corrin Fosmire '21, on reclusive Houston recording artist Jandek's album, "Houston Friday," 2017

Another DJ thought otherwise: I was at this show, it was great.

A third DJ joined in: I actually hate this album.
---
Hard to believe such a gem comes from Merge. NMH [Neutral Milk Hotel] is mainly Jeff Mangum and is out of Ruston, Louisiana (maybe that's why it is so good). Truly one of the best, if not the best, albums of '96 and all of history. — Ajda Snyder, "On Avery Island" by Neutral Milk Hotel, 1996

Another DJ circled Snyder's first sentence and scribbled underneath: You gotta love the attitude.
---
The older the review, the more tempting it is to figure out whether the reviewer stood the test of time. Sleater-Kinney, an all-female Pacific Northwest indie band led by future Portlandia star Carrie Brownstein, issued their fifth album "All Hands on the Bad One" in 2000. At the time, their tilt toward the mainstream in the wake of fellow PNW indie Nirvana's global success hit DJ Holly all wrong. "I fear this is the death knell for SK … the spark is gone." Holly was pretty much correct. SK made only two more albums before going on hiatus.
---
Absolute shambolic mess from the former Big Star and Box Tops front man. Tracks have lots of mistakes, random stops and restarts, out-of-tune instruments and voices … and it's f—ing great. I double dog dare you to play it … you might even end up loving it as much as the rest of its cult following. — Anon, on "Like Flies on Sherbert" by Alex Chilton, 1980
---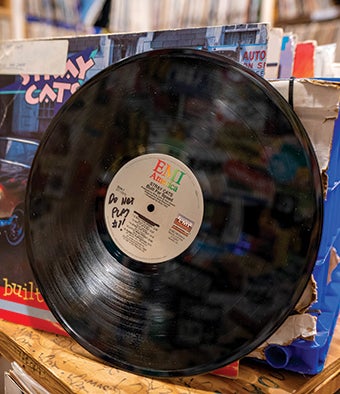 With critics like this, I'm hardly surprised when Clifton opens up another crowded storage room at KTRU and points past mic stands, pieces of a drum set and amps to a shelf of vinyl albums. "That's the 'Too Popular' shelf," he says. There are familiar artists and titles such as David Bowie, "Bob Dylan at Budokan" ("That review was harsh as hell," Clifton says), John Lennon (enough already of "Imagine," evidently), and "every Paul Simon and Simon and Garfunkel we ever had."
Such opinions run strong. Written on the label of the album "Built for Speed" by the Stray Cats is the command, "Do Not Play #1!" The song title itself is marked out entirely by black marker. But it's not too difficult to see the reference, which is, of course, "Rock This Town."
Even King Crimson (!), Kinks, Byrds and Father John Misty have been sidelined due to overexposure. Harry Styles and Taylor Swift never made it in to the stacks in the first place. But, Ray Charles! I shake my head.
"This place is nerdy," Pierce says. "Everyone takes their obsession to the next level. This is like playing a sport at other schools."
---
This "difficult second album" … may very well try the patience of current fans (although judging by the radiant post-coital afterglow among the online pundits, this may not be the case). — HK and Nancy N., on "Ys" by Joanna Newsom, 2007
---
What is Kraut rock? German proto-electronic minimalist rock, with a heavy focus on driving repetitive rhythm. — Anon, on "2 Originals of Neu!" by Neu!, 1972
---
TRUE INDEPENDENCE
At 11 a.m., Shilcutt wraps up her hourlong shift and yields the mic to Kelly Moore, the community DJ who hosts "Chickenskin," a program focused on American roots music, and then heads downstairs for a meeting of KTRU's board of directors, who are all student DJs. About 20 student board members graze through a buffet of Indian cuisine before getting down to the main topic: planning the upcoming outdoor show in April. This year's show will be an all-Texas lineup of five bands. The punk band will close out the day, they agree, before moving on to festival logistics.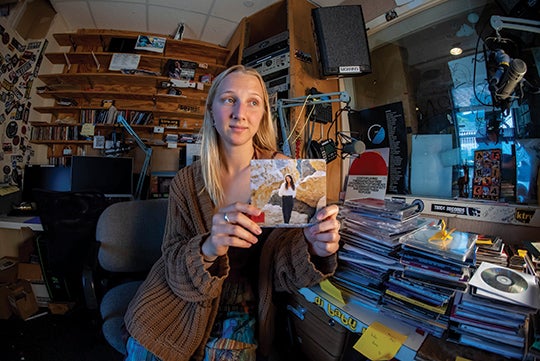 "This is just a nice place for students to gather and play music," Shilcutt says. "The administration encourages them to do so and pretty much leaves them alone. People can play anything."
Pierce, the accordion music DJ, agrees. "The radio is a creative outlet, something I enjoy. The place is a big part of the appeal. I love music and all of the stacks, all the reviews, the graffiti. I started organizing shows last year. When I get interviewed and asked about leadership, I cite setting up the outdoor live concert, being a stage manager, organizing meetings. I've been able to make cool things happen.
"KTRU, I don't want to say they operate in a bubble," Pierce says, "but they are generally unconcerned how other people do things. They want to do things their own way. That's the Rice way. That's the KTRU way."
---
Can't get enough of that black and yellow vibe?
Take a peek into KTRU's studios through this video story. Meet the station managers, music director, business manager and director of student media and learn what motivates them to work — and DJ — at KTRU. Also, hear from former DJ Richard Baraniuk, an esteemed professor of computer and electrical engineering, on how KTRU Rice Radio shaped his listening habits. Finally, listen as these students reflect on the upcoming move of KTRU's upcoming move to new spaces.