https://texashighways.com/culture/people/traditional-healer-searches-texas-brush-country-medicinal-plants/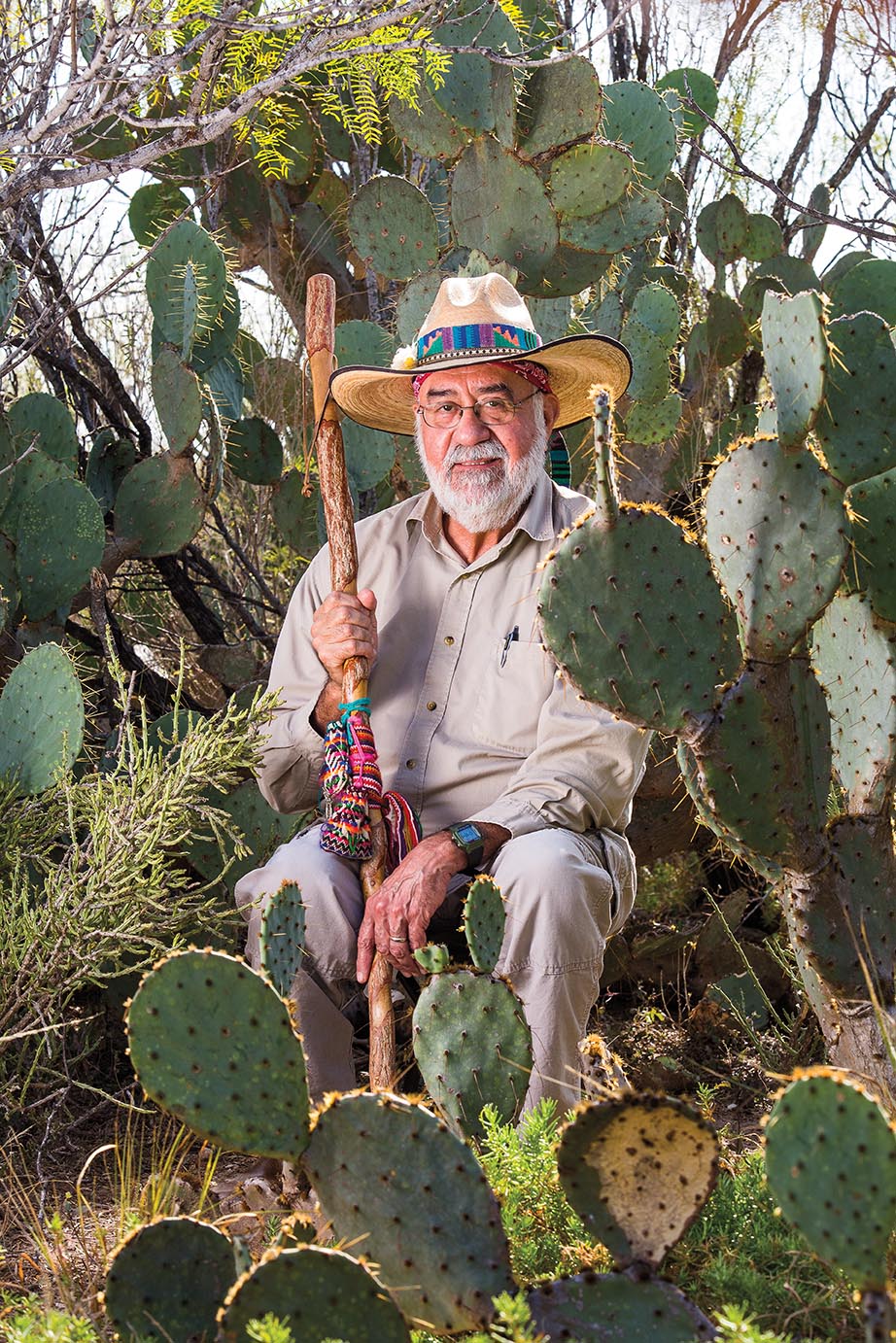 The Brush Country of the South Texas borderland is a harsh place. Part Chihuahuan Desert and part Tamaulipan thorn-scrub, it's an impenetrable no man's land where if something doesn't stick, sting, or bite, it's probably a rock. It might just be the roughest piece of Texas.
One morning early last March, an inquisitive woman from Laredo named Mari Vargas; my wife, Kris Cummings; and I convened in East Laredo. We gathered near the bamboo thicket outside the residence of Tony Ramirez in the Heights neighborhood, admiring fat grapefruit and brightly colored oranges hanging on trees in the garden. We had signed up for "Medicine in the Wild," Ramirez's walk-ing lecture in the brush about the plants within that have medicinal uses.
Tony Ramirez's "Medicine in the Wild"
956-724-6877; commoncoyote.com
Tours by appointment only, starting at $80 per person.
Ramirez isn't just a tour guide; he's considered a médico tradicional, or traditional healer, among the Nahua/Chichimeca people. But unlike Mexican folk saints Don Pedro Jaramillo, El Niño Fidencio, and Teresita Urrea, he focuses strictly on the practical: identifying and collecting useful plants. Consider it the fieldwork for discovering increasingly popular herbal remedies.
We were dressed for our adventure in pants and long-sleeved shirts, and we carried a lot of water. Ramirez had a straw hat with feathers in the band, and a machete and pistol strapped to his side. We peppered him with questions as he drove us in his SUV 20 minutes east before stopping to open a ranch gate. Vargas was rapt.
For the past two years, she has studied alternative medicine, working with medical doctors from Monterrey, Mexico, who venture into the same brush in search of natural medicines. She'd registered for Ramirez's workshop to learn how to better address her family's and friends' ailments. "My parents are from Mexico and lived in a place where medicinal plants were all they had to treat illness," she said
The vehicle continued down a dirt path and came to a final stop beside a concrete slab with an aluminum roof that serves as a staging area for hunters and anglers dropping lines in a nearby stock tank. The brush beckoned, but before we entered, Ramirez gathered us around a mesquite with a canopy of fresh pale-green spring leaves. This is the signature tree of the Brush Country.
"The mesquite has a lot of uses beyond cooking," Ramirez explained. "Its beans are a protein source. Its leaves are good in tea for gastrointestinal problems and as an astringent for topical infection prevention. If you have conjunctivitis, rinse and crush the fresh green leaves, mix them with a bit of clean water, and squeeze the antimicrobial liquid into the affected eye as eye drops."
He knelt down and surveyed the stubby succulents covering the ground below the mesquite. He pointed to halophyte saladilla, a plant whose sap was a source of salt for Native Americans. Then guereque, a member of the melon family whose tuber contains monoglyceride compounds that can treat diabetes. Next, a pencil-thin cactus called sacasil, used to treat insect bites and bone fractures.
"You think this stuff out here is just brush," Ramirez said with a smile. "Everything here has value."
The Laredo native grew up in a family that practiced herbal medicine. His abuelo, proprietor of the Glorioso Medicine Company in Laredo, formulated liniments and poultices, which he sold town to town, ranch to ranch. And his abuela was a healer who cleansed people with medicine from her garden. "Growing up, whenever I'd get sick, I was taken to my grandmother," Ramirez said. "If I didn't get better taking whatever tea or herb she gave me, I'd go to a doctor."
This old school method of dealing with illness or injury is still practiced in communities and rural parts of the Texas-Mexico borderland. It serves as inspiration for the increased usage of herbal and natural medicine among a population seeking alternatives to prescription drugs. But the inexperienced user should exercise extreme caution.
"It is hugely important, [for those teaching about] native plants in any capacity that might encourage someone to ingest anything, to use the botanical names," said Lynn Marshall, research coordinator for Useful Wild Plants, an Austin-based organization devoted to Texas' botanical domain. "Common names can be applied to multiple species, and a mistake has the potential to be fatal."
"You think this stuff out here is just brush. Everything here has value."
After a career with Texas Instruments and IBM, Ramirez returned to Laredo in the 1970s to study ethnobotany and folk medicine through college classes, books, and talking to elders. He authored numerous papers and learned the ways of heal-ers from Chichimeca, Huastec, Huichol, and Nahua natives in Central Mexico. Following a stint with the Texas Department of Agriculture, he has led students at the UT Health Science Center Regional Campus at Laredo into the brush since '96.
He was also a columnist for LareDOS, a newspaper turned online news journal, in the late '90s and early '00s. "His writing bore the careful note of credibility that came from experience and research," said Meg Guerra, LareDOS publisher and editor. "Each column was a gift of information, such that many consulted Tony for the herb and tree-bark remedies we once heard our grandmothers discuss."
As we put on our backpacks to enter the brush, Ramirez produced a small bundle of dried native tobacco tied together for a limpia. "We do a cleansing before we enter the brush," he said. Vargas went first, standing with her arms extended. Ramirez waved the bundle in all seven directions: east, south, west, north, above, middle, and below. After my cleansing, Ramirez let me cleanse him.
Off we went, following an animal path into the brush. "Be careful," Ramirez said. "This area has a lot of jumping cactus. They're really well-camouflaged." Early on, he spotted fresh scat on the sandy path—mountain lion. He holstered his pistol and suggested we stay vigilant.
We stopped every 20 or so paces to investigate plants. Ramirez identified each and pointed out their uses. When the thicket grew impassable, he pulled out his machete and whacked out a path. Though our pace slowed, Ramirez's talk continued apace as he pointed in every direction, settling on a junco plant. "It's used for stomachaches and dizziness," he said.
Eventually, we stopped at a tree in a small clearing, with colored twine wrapped around a few branches. At 8 feet high, it was tall enough to provide shade if we squatted down and didn't perch in the nest of thorns thriving in the understory.
Mother Nature's Natural Remedies
A sampling of healing plants from Tony Ramirez's Brush Country tour. Consult a medical professional before using.
Bitter Goat Brush
"This plant can save your life. It will kill amoebas."
Blackbrush Acacia
"It can be used as a topical antibacterial to treat sores that aren't responding to medication."
Gobernadora (Creosote)
"It's a really versatile plant: antifungal, antibacterial, antibiotic, and antiviral."
Palo Santo (Guayacán)
"This is where Mucinex comes from. It's an expectorant and COX-2 inhibitor that fights inflammation."
Pita (Yucca or Spanish Dagger)
"It's flavorful, an anti-inflammatory, and a phytosteroid."
"This is the medicine tree," Ramirez explained, reaching into a small bag to fetch more colored twine. "Each color represents something: black for fear, white for compassion, green for healing, yellow for vision, red for strength and power, blue for protection." He encouraged us to tie some twine to a branch, which we did.
After resting, we ventured back toward the day shelter. We'd been in the brush close to two hours, but we hadn't walked much more than a mile. Ramirez checked his phone and said the high inside the brush had reached 108 degrees. Back at his place, Ramirez handed out certificates for completing his workshop. "These plants aren't going to replace medicine," he admitted. "What you learned is this is another tool for your toolbox."
Driving back to Austin on Interstate 35, the Brush Country looked as harsh and forbidding as ever. This time, though, I knew that deep inside there was a whole other story.