https://texashighways.com/things-to-do/on-the-water/explore-rio-grande-valley-wilderness-wildlife-at-laguna-atascosa-national-wildlife-refuge/
Explore the wilderness and wildlife of Laguna Atascosa National Wildlife Refuge
Creature Comforts
By Joe Nick Patoski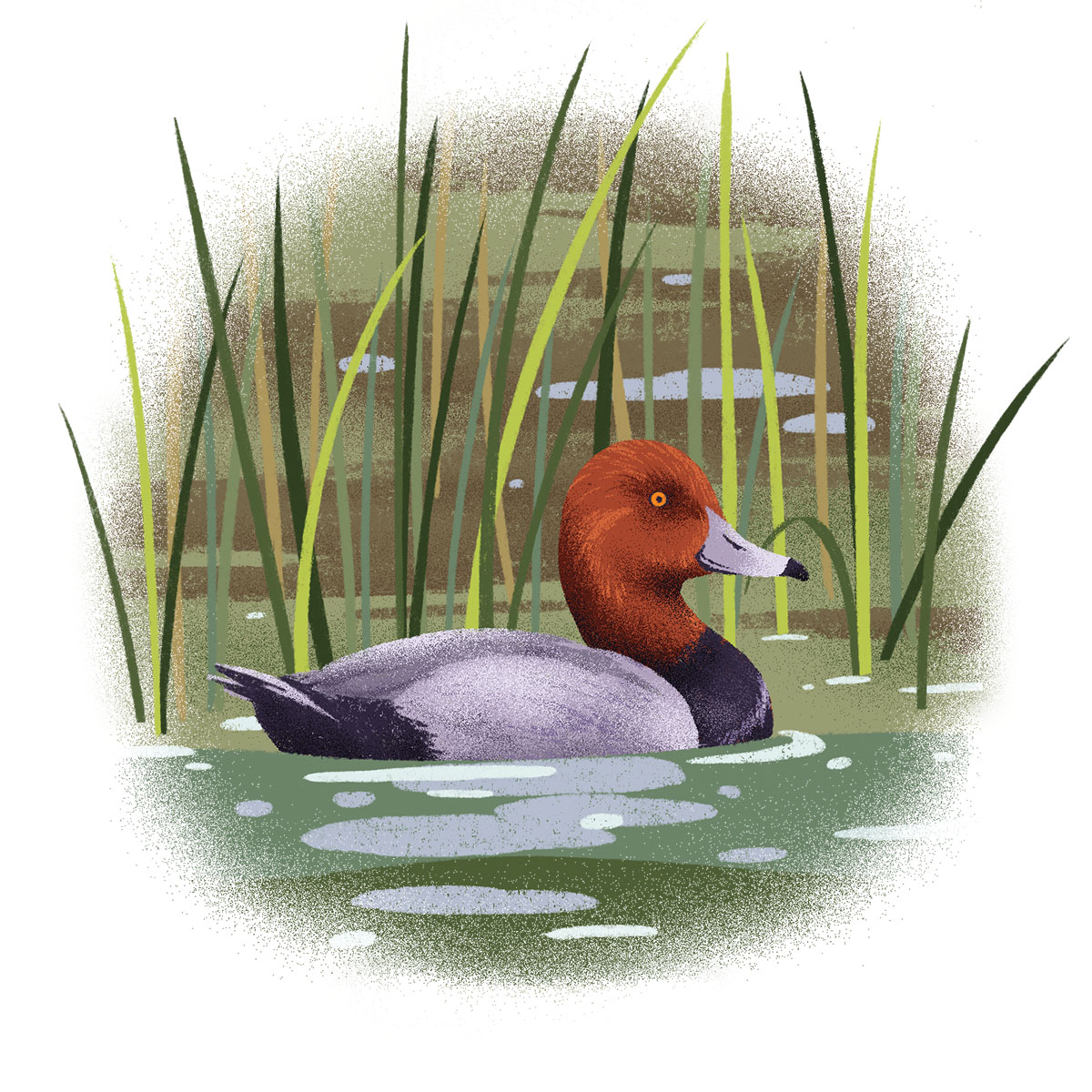 Beyond Laguna Madre,
on the ocean side of South Padre Island, a bank of cumulus clouds looms over the Gulf of Mexico. Morning light casts a palette of radiant oranges, yellows, pinks, and blues, minutes before the sun makes its debut above the clouds.
Sunrise in January is prime time at Laguna Atascosa National Wildlife Refuge in the Rio Grande Valley. The tropical humidity and heat, the norm from late March until November, abates, and the winter residents move in. From the Plover Point observation deck, the Laguna Madre —one of only four shallow, hypersaline bays in the world—shimmers with sublime views.
Living creatures are everywhere—in the water, on the land, in the sky. Songbirds flit out of the impenetrable thornscrub brush called the monte, while a pair of scissor-tailed flycatchers pirouette around a Spanish dagger yucca. A clutch of shockingly pink roseate spoonbills stands out among hundreds of white egrets, herons, and ducks congregating in a shallow pond. On the shore of the laguna, shorebirds gingerly step in the shallows in search of breakfast. Redfish, too, their tails extending above the water surface as they feed on shrimp. A brown pelican spies a tailing redfish and quickly scoops it up. On the road through the thornscrub, rabbits and roadrunners crisscross the path where a brilliantly dark indigo snake has just slithered. Coyotes, whitetail deer, and nilgai antelope roam undisturbed across the open savannah. Butterflies and dragonflies flutter around by the dozens.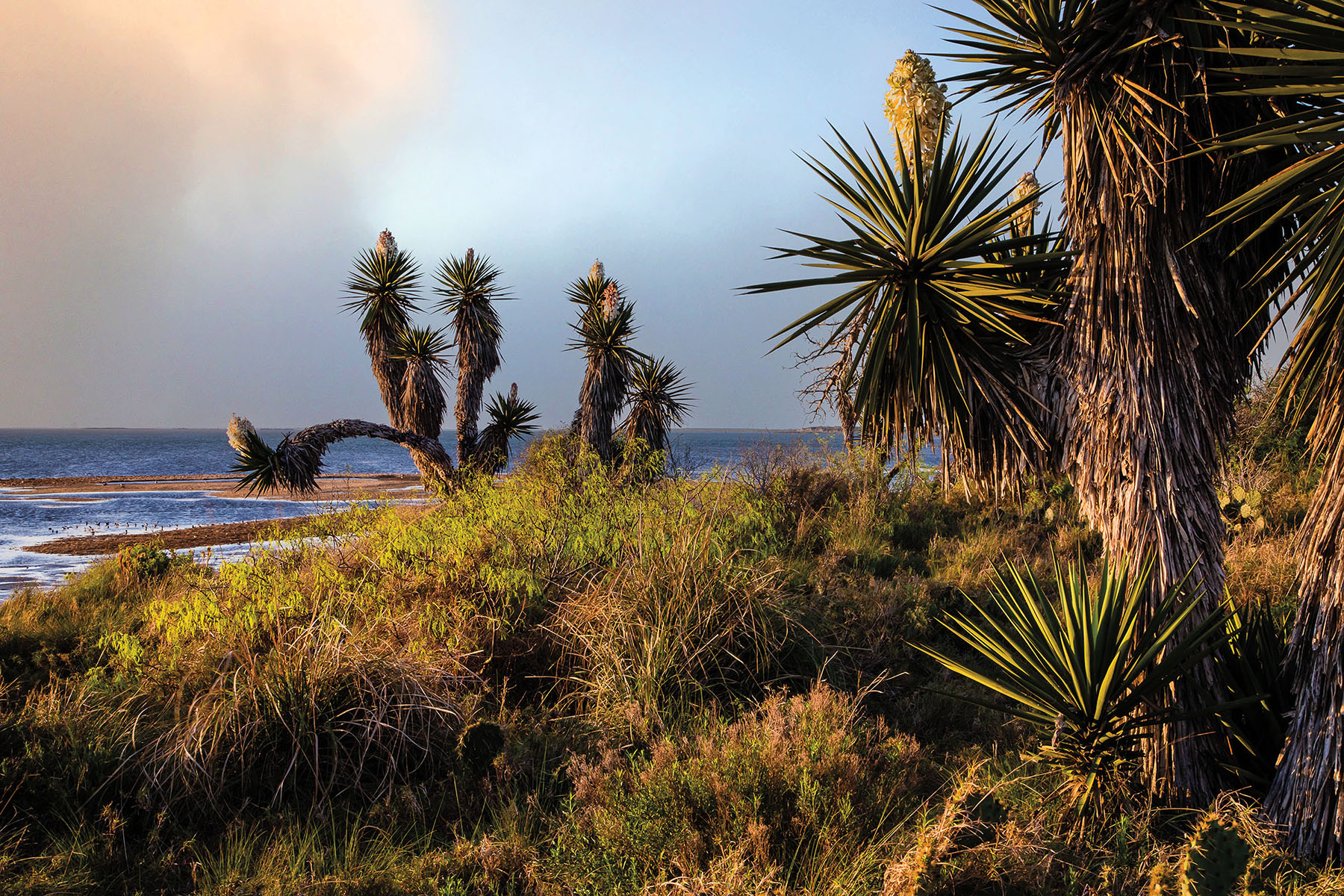 Welcome to the wildest part of the wild Rio Grande Valley, which offers a glimpse into the natural world that flourished across deep South Texas before it was settled, farmed, and developed. Coastal, tropical, jungle, and desert all at once, the Valley is where the two major North American migratory bird flyways converge, and it's a crucial wintering grounds for waterfowl. Laguna Atascosa is at the center of the action.
The rapidly developing region is also attractive to humans. From 2000 to 2020, the Rio Grande Valley population—including Cameron, Hidalgo, Starr, and Willacy counties—grew 41% to 1.37 million people. According to the Texas Demographic Center at the University of Texas at San Antonio, the number is projected to grow another 15% to 1.58 million by 2050, depending on migration rates. But while habitat loss is the usual story in the booming RGV, Laguna Atascosa is all about rewilding.
The U.S. Fish & Wildlife Service established the refuge in 1946, carving about 11,000 acres from a World War II gunnery range to protect wintering bird habitat, primarily the redhead duck on Laguna Atascosa. Over the past two decades, assistance from groups including The Nature Conservancy and The Conservation Fund, along with settlement funds from the 2010 BP Oil Spill, have allowed the refuge to add over 50,000 acres to expand to more than 120,000 acres across multiple units. The South Padre Island Unit protects land on the northern end of the island, and the Bahia Grande Unit protects wetlands between Laguna Vista and Brownsville. Ongoing purchases are creating a new coastal corridor for wildlife to travel between patches of their fragmented habitat, including via special highway underpasses.
"There's not a more significant place for wildlife diversity in Texas, and maybe the country, than the Lower Rio Grande Valley, from songbirds to ocelots to waterfowl," says Jeff Francell, director of land protection for The Nature Conservancy in Texas. "Most of the native brush in the Valley was converted to farmland decades ago, and so to enhance the native wildlife populations, it's important to take some of that land and restore it for wildlife. For example, one of the pieces of property we were able to acquire was an old shrimp farm, and we were able to buy part of it to provide a corridor for ocelots between Laguna Atascosa and Bahia Grande."
Laguna Atascosa astounds in its diversity: 417 bird species, 130 butterfly species, 45 mammal species, 44 reptile species, and 450 plant species. And the refuge is far enough from the border to avoid lighting, walls, and other disruptive issues that have negatively impacted some refuges along the Rio Grande. Outside of a visitor center, a couple of roads, and a handful of overlooks, the refuge has very little infrastructure. Wildlife conservation is the priority. This is by far the biggest chunk of wild in the Rio Grande Valley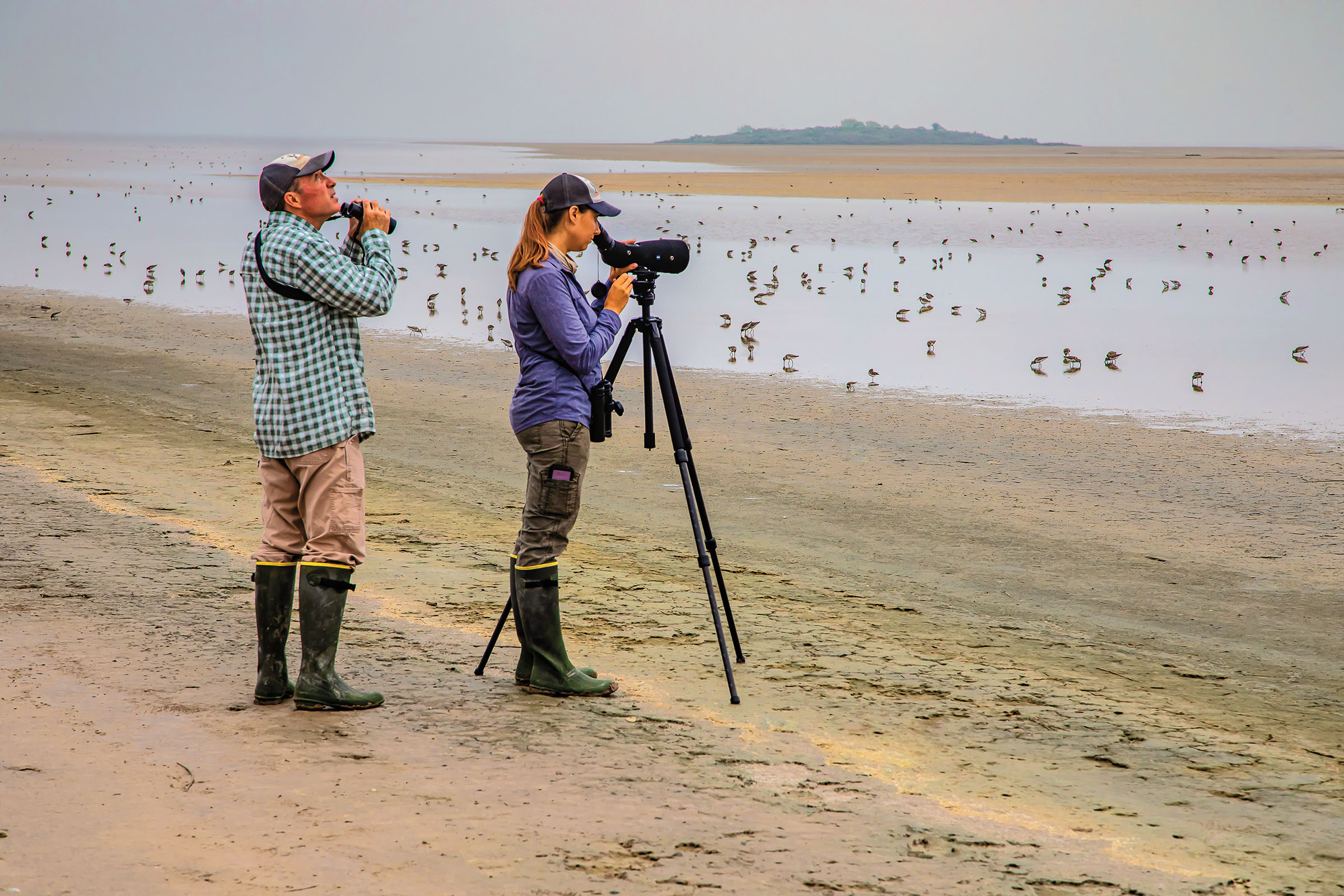 About 15 minutes before daybreak, I meet the refuge's visitor services manager, Georgie Garcia, in the visitor center parking lot and jump into his high-clearance pickup. Garcia, a Brownsville native and Iraq War vet, drives the truck across Buena Vista Road and opens the gate at the trailhead to Granjeno Trail, the access to Steve Thompson Wildlife Drive. We continue to Plover Point to take in the sunrise before touring the heart of the refuge via roads, trails, and barely visible dirt tracks.
Garcia, one of seven employees, also maintains the trails with a brush cutter to keep the monte from encroaching, stocks the feeders and water features, conducts educational outreach, and coordinates the seasonal volunteers. The Friends of Laguna Atascosa National Wildlife Refuge group runs the bookshop in the visitor center, and volunteers help cover for Garcia whenever he is away from the service counter, which is the source of permits and information. Luckily, the service counter has a picture window that looks over a bird feeding station.
"Every day I bet my paycheck I'll see a green jay," Garcia says of the Neotropical bird rarely seen elsewhere in the United States. "There will be 20 on a feeder sometimes."
The visitor center reopened in May after being closed for two years due to the pandemic. In 2019, the refuge restored its main thoroughfare, Buena Vista Road, from a potholed country road to a two-lane boulevard with bicycle lanes on both sides, along with eight large speed bumps to keep traffic under the 25-mph speed limit. The "Ocelot Crossing" signs are for real.
The park's other road—Steve Thompson Wildlife Drive—closed to private motor vehicles in 2013 when a car hit and killed a lactating female ocelot. A 60-person tram operated on the loop seasonally in the 2010s until it broke down in 2018 and was declared beyond repair.
These days, hiking and cycling are the only ways to explore Steve Thompson Wildlife Drive and the 55 miles of other trails.
As we drive through two fallow fields lined with tree tubes containing seedlings and saplings of natives such as mesquite and hawthorn, Garcia says the refuge's revegetation efforts have stepped up as more land has been added. "All that acquired property was ag fields," he grins confidently. "Give it 10 years; it'll be South Texas thornscrub."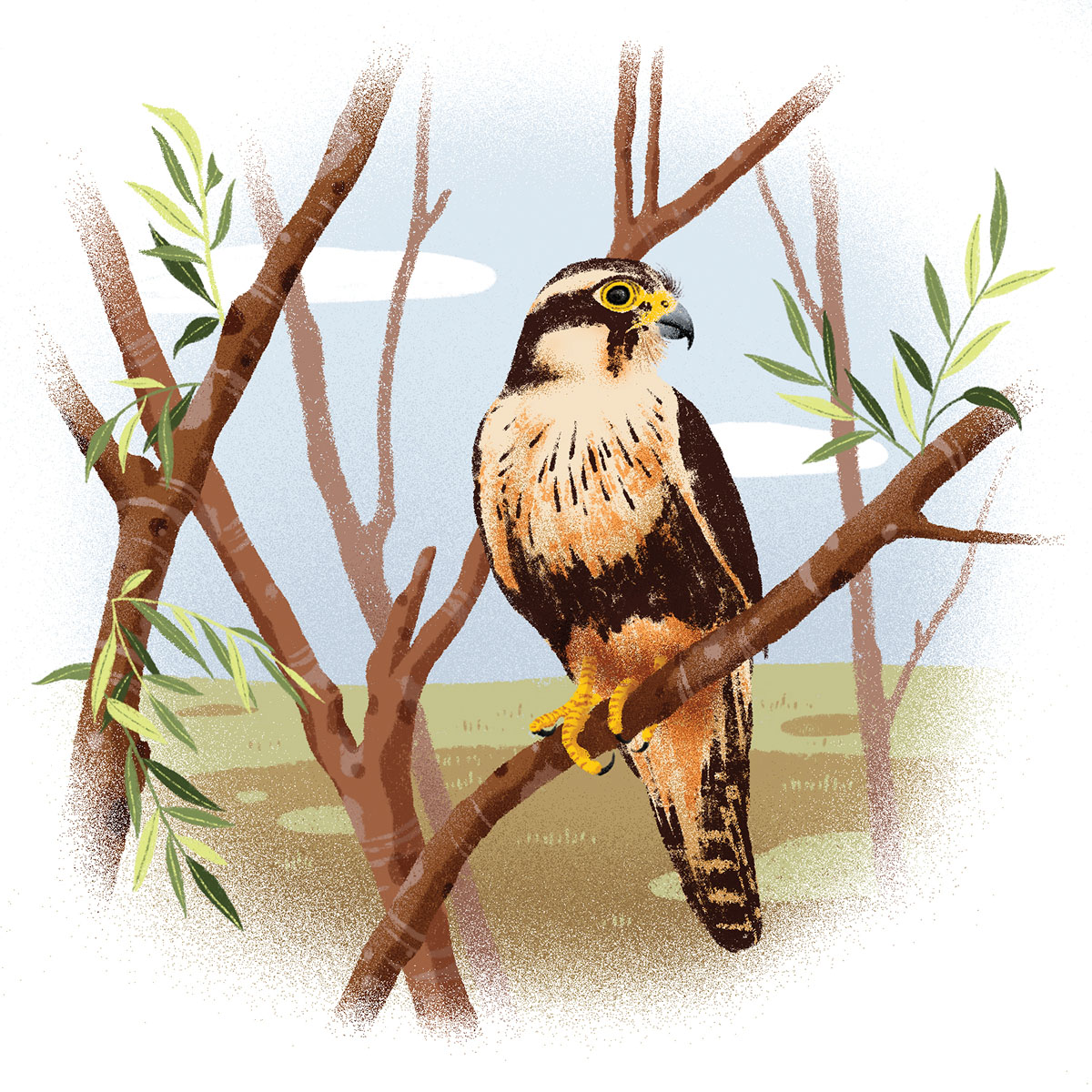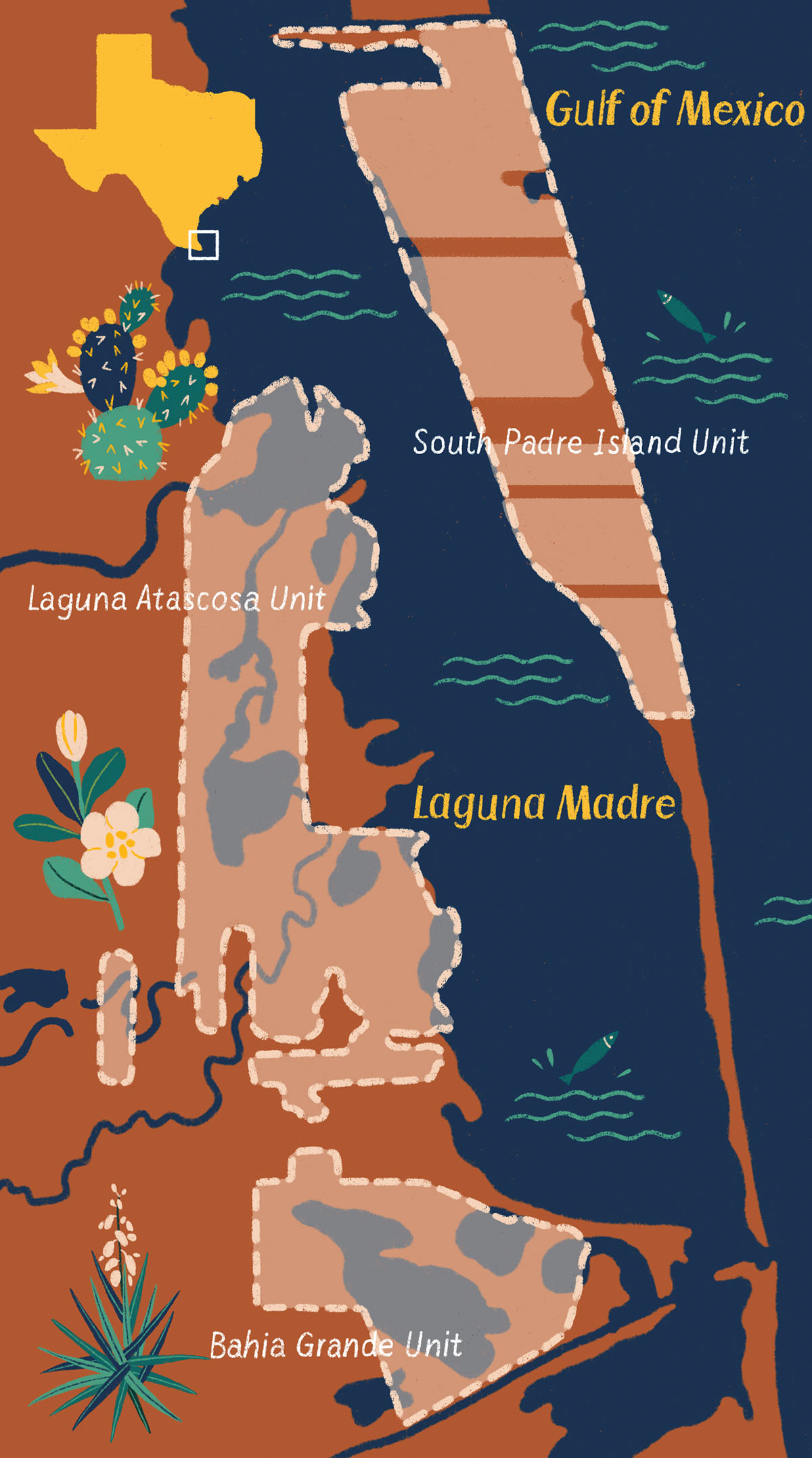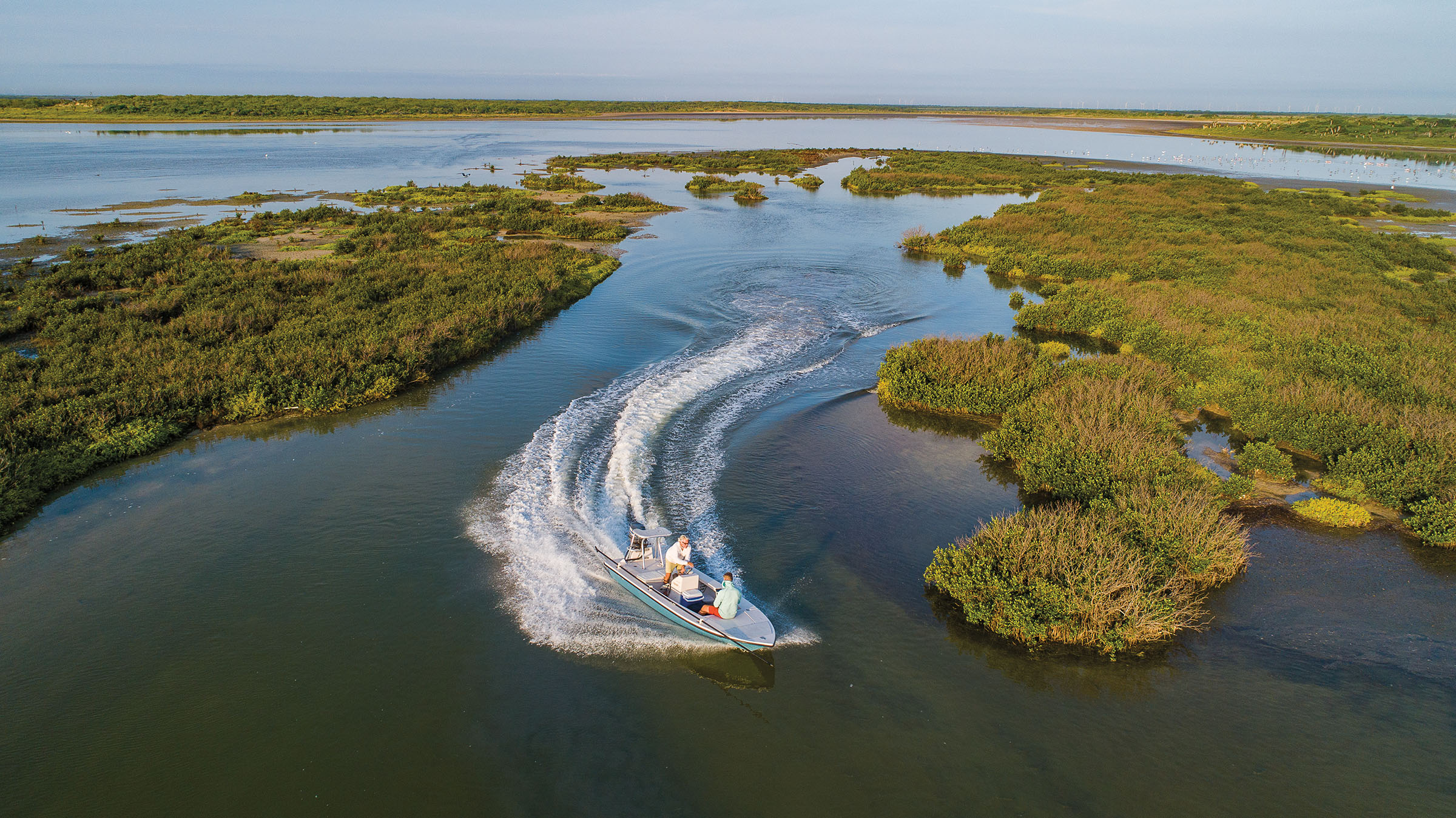 The ocelot—a small, secretive spotted feline, about twice the size of a house cat—has become a symbol of the refuge. Laguna Atascosa is home to 30-35 ocelots, one of two breeding populations in the U.S.
In cooperation with the refuge, the Friends of LANWR group holds an annual Ocelot Conservation Day in March at the Gladys Porter Zoo in Brownsville—March 5 this year—with booths and presentations.
"We know the biggest problem is habitat loss," Garcia says. "This past trapping season, they were able to trap six ocelots and put collars on them. The ocelot is an umbrella species; it's at the top. If you restore their habitat, it's going to help a lot of other South Texas species, some of them endangered or threatened."
While making the rounds, Garcia chases off several cows that wandered in from a neighboring ranch, watches a gator snag an unsuspecting bird, and fetches the remnants of a mylar balloon snagged on a prickly pear.
We drive south to the 26,000-acre Bahia Grande Unit, an addition to the refuge that is west of State Highway 48 and the Brownsville Ship Channel.
"This was a complete dust bowl," Garcia says, gazing across rough vegetated lowlands spiked with yucca. "Now we've restored it to beautiful coastal prairie wetlands, with lomas, how it used to be." Lomas are low vegetated hills that exist in only three places in the world. "We're going to bring in some fresh water, which should balance out the salinity." The Bahia Grande is hunting grounds for Aplomado falcons, which eat insects, lizards, birds, and small mammals.
We inspect a channel between two small inlets in the estuaries and watch a school of redfish forming a V as they move through. We stop near another small shallow lake, almost dry, and Garcia walks toward a sandy shelf, maybe 5 feet high. Beneath the shelf, dozens of perfectly circular beads no more than an eighth of an inch in diameter, each with a hole in the middle, are scattered in the sand around our feet.
"The thinking is this was on a trade route between the coast and the interior," Garcia says. Once revegetation has taken hold and archeological work is complete in two to four years, Bahia Grande will have public access. For now, it is open to hunters on designated weekends in the winter.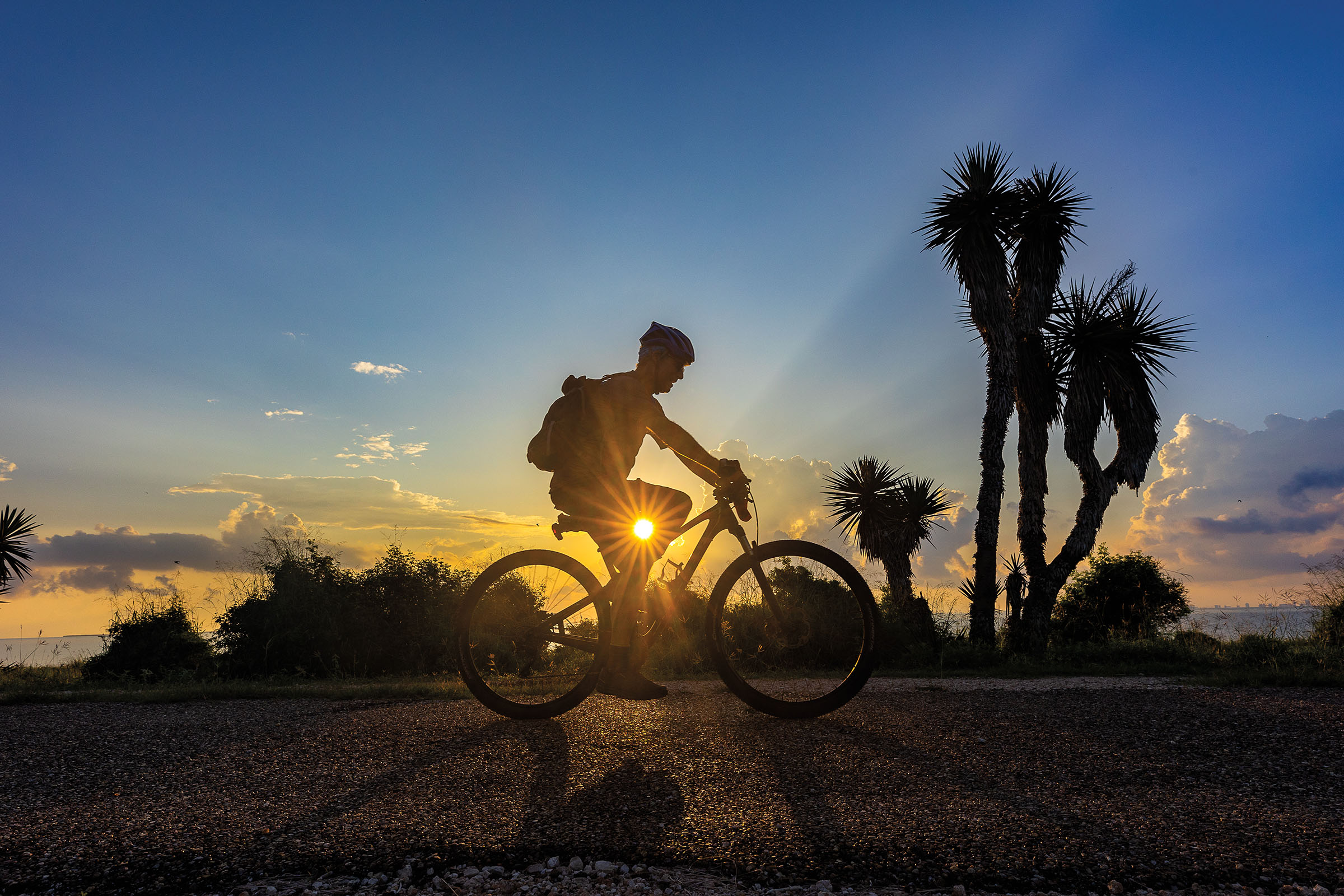 Visiting Laguna Atascosa
Laguna Atascosa National Wildlife Refuge offers a look at why the Rio Grande Valley was slow to be civilized for large-scale human population. What's great for the creatures and critters translates to rough country for people—it's hot, humid, windy, and buggy.
Park staff members recommend bringing a wide-brimmed hat, bug repellent, sunblock, long pants, high socks, and sturdy footwear to ward off ticks, chiggers, and snakes—regardless of the time of year.
The refuge doesn't have food or drink for sale, and fuel is 15 miles away at the intersection of SH 100 and FM 510 west of Port Isabel. The nearest hospital is in Harlingen, 28 miles from the visitor center.
Admission costs $3 per vehicle. An annual pass is $10. The refuge trails are open daily, dawn to dusk. The visitor center opens Wed-Fri 7 a.m.-2 p.m. 22817 Buena Vista Boulevard, Los Fresnos. 956-748-3607; fws.gov/refuge/laguna-atascosa
The Friends of Laguna Atascosa National Wildlife Refuge group maintains a calendar of events and activities on its website, flanwr.org.
We don't see a soul on our five-hour tour, except for a lone cyclist cruising along the back side of Steve Thompson Wildlife Drive. He is clearly in the zone, steadily pedaling, lost in the rhythm and unaware of our truck inching up behind him. Garcia patiently keeps his distance for a few minutes, then gently taps his horn. The cyclist startles. He pulls over and grins as we pass.
The cyclist is Irv Downing, a 68-year-old former endurance racer who moved from South Padre to be closer to the refuge, which he cycles about "every other day." Downing calls Laguna Atascosa his Serengeti. "The scenery, the setting, the laguna, it's just spectacular," he says. "My son was visiting from Seattle last week, and on our ride photographed 20 nilgai antelope."
After talking to Downing, I figure I could bicycle this route too—if it wasn't too windy, too hot, or too cold. "This is a difficult trail because of the distance and wind factor," Garcia acknowledges. "The way to do this is on an electric bike."
My ears perk up.
I couldn't locate any e-bike rentals near the refuge, so I find one to borrow near my home in Wimberley and load it into my SUV. Back at the refuge, I meet photographer Erich Schlegel at the visitor center parking lot just before sunrise.
The narrow, paved route along Steve Thompson Scenic Drive is downright bucolic, especially with the rising sun casting a soft golden glow over the whole scene, straight out of a Van Gogh landscape. I pedal conventionally most of the way, twisting the accelerator handgrip whenever I lag behind Schlegel and whenever headwinds slow
my pace.
We cycle through the monte, up and down a loma, past prairies and estuaries, and along the shores of shallow lakes, bogs, mudholes, and wetlands. Wildlife stirs all along the way. Because we're on bikes, the wildlife is more active, less oblivious to our presence, than when we were driving the route in a truck. We see several white-tailed deer scamper up from a creek bottom, followed by a herd of nilgai antelope cows who stroll across a grass prairie to meet up with a herd of nilgai bulls.
We cycle 13 miles in two hours including stops at Plover Point and Renee's Overlook along the shore of the Laguna Madre. It's a good workout, even with electric assistance. But it is nothing like the exhilaration I feel being there, passing the morning in that part of the Rio Grande Valley where the wild things are.
There is one caveat. No ocelot sighting. I reach out to Hilary Swarts, one of the refuge's two wildlife biologists. Swarts is an ocelot specialist who has trapped and collared the cats on the refuge; she also documented the first ocelot kitten discovered on the refuge in about two decades.
Swarts, who has worked at the refuge for nine years, has spotted ocelots in the wild twice, one in July 2020 and one this past June, both near the visitor center. "Whenever I feel pessimistic, I remind myself they're all over this refuge," she says. "They've seen me more often than I've seen them. They could be staring at us right now."
That's the spirit of Laguna Atascosa.
"It's that wild, that alive," Swarts says. "And you don't have to hike or bike to appreciatethat. Just plant yourself somewhere and watch."
Laguna
Atascosa Wildlife
Birders are as hip to Laguna Atascosa as the birds are. The late Roger Tory Peterson, a pioneer of modern American bird-watching from New York, made six trips to the refuge in the 20th century in search of uncommon sightings. More than 400 bird species have been spotted at the refuge, including South Texas specialties such as green jays, Altamira orioles, and plain chachalacas.
Popular bird-watching sites include the visitor center, which is home to blinds, feeders, and water features; Kiskadee Trail, a paved, wheelchair-accessible path; and the Mesquite Trail loop and the Prairie Island viewing area.
Osprey Overlook, a covered platform with a sweeping vista of the 3,500-acre Laguna Atascosa, is a magnet for pelicans, herons, egrets, and, during winter, 85% of the redhead ducks in North America.
Endangered Aplomado falcons were introduced on the refuge in 1993 after being eradicated in most of the Southwest. Twenty-six pairs presently reside on the refuge, most around the Bahia Grande Unit.
Near Osprey Overlook is the trailhead to Alligator Pond, where alligators wallow in their element. And while you won't likely see them, wild cats are out there too—bobcats, cougars, and ocelots.
Hunts, which take place on designated days between November and February, are managed to cull invasive hogs and nilgai antelope.
From the January 2023 issue